Van Gogh is probably more famous for his whimsical take on sunflowers and starry nights. Not everyone knows about his more darker works. Potato eaters is wonderfully dark, depicting life in the 1880's. This has been painted in oils in his second signature style.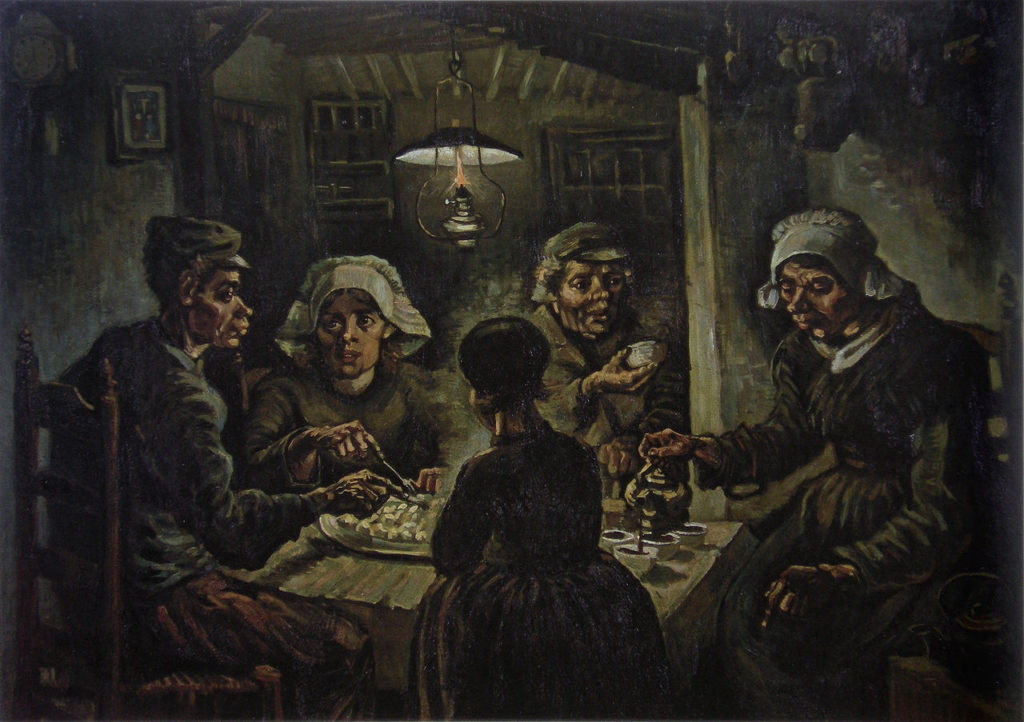 Art Style
Not only is this piece darker than his more famous works but the people in potato eaters seem to have a caricature feel to them. The cheek bones have been exaggerated to seemingly give them a malnourished look. Brush strokes are also big and bold yet still give a clear representation of their subject matter.
Themes
To me this whole painting is about how close the family is. All the characters are huddled together despite not having much. In dark and grim times all you can rely on is your family. I also feel this is re reflection on poverty of the time. In this day and age when we think of classical paintings we seem to have in mind the extravagant or biblical scenes. Potato eaters is neither of those thing.
Colours
The Potato Eaters uses a dark colour scheme except for the faces which seem overly saturated. This gives it a grim almost suffocating look. The greys and dirty browns are enough to set an oppressive atmosphere. An atmosphere that gives the impression that if you were to stare at it too long might actually make yourself sick. Compared to Van Gogh's more famous work you really can tell why this never caught the attention of the mainstream.
Notable Elements
The composition is interesting in its simplicity. The main bulk of the paintings visual attention seems to center around the middle horizon aside from the flame on the lighting which is slightly higher. It's not Van Gogh's nicest looking piece but the details in potato eaters keep your eyes coming back for more.
You May Enjoy These.
Last updated on 7th December 2023 5:52 am